Consequences for a 3rd DUI in Orange County
Facing the consequences of a 3rd DUI in Orange County can be overwhelming and daunting. With potential penalties ranging from hefty fines to considerable jail time, understanding the available avenues for legal support, rehabilitation, and alternative programs becomes crucial. This guide delves deep into the repercussions of a third DUI conviction and provides insights on how one might navigate these trying times.
3 Important Facts:
A 3rd DUI conviction in Orange County may result in approximately 270 days of jail time.
There are various alternative programs available for 3rd DUI offenders in Orange County, including rehab programs and the DUI court program.
Representing yourself with an experienced DUI lawyer can potentially help you navigate alternatives to jail time or reduce the sentence.
A third DUI conviction in Orange County carries harsh penalties including jail time and fines. You'll likely face these consequences if you're charged with driving under the influence. Most people are not worried about the fines in Orange County as they are similar to 1st and 2nd DUIs. However, the jail time for a jail time for a 3rd DUI in Orange County are around 270 days.
Fines
When you get convicted of your 3rd DUI, there will be Fines on top of Jail Time. The max Fine you can be required to Pay is $6000-7000 after penalties and assessment. The Judge is not Required to Give You the Full Fine Amount and most likely will not. It's Important to Note That there are Lots of Other Costs to Getting a Third DUI Conviction other than the Fees you're Required to Pay. There Will Also Be Counseling Fees, Court Costs, Interlock Device Costs, and Other Expenses.
You May Be Able to Avoid Jail on a 3rd DUI in Orange County
However, it is possible for many 3rd offenders to be given another chance to enter a program to btter themselves and battle their addictions. The court understand that relapse is a process and have put out options for people to avoid jail and work towards sobriety. However given this, if you violate the programs you'll likely return to jail.
You should go to rehab or at least get a head start on AAs before your court date because it will help your case when the court reviews it.
If the prosecutor in your case is under the political thumb then you will want to give them a reason why someone convicted of DUI should go to jail or to a treatment facility. There are many prosecutors who are driven by rehabitation. In addition, prosecutors should consider whether someone is better off serving their sentence in a treatment facility over jail.
Getting into a Program for your 3rd DUI in Orange County
Rehab programs are usually for people who drink too much and are struggling with alcohol. . Judges are more likely to send repeat offenders to rehab programs because they know that these programs work. After being sent to a rehab program, the person must go to weekly meetings even when he/she is out of rehab.
DUI Court for 3rd DUI in Orange County
You may be eligible to enter the DUI court program in Orange County. If you're facing a 3rd DUI in Orange County and your case does not invovle any type of injury and you have met a set of criterias then you may be eligible to enter the program. There are different ways to pursue this process and must be requested by either you or your counsel. After you have requested the DUI Court program for your 3rd DUI in Orange County then you will have to be screened.
When you arrive to be screened for DUI court in Orange County they will ask you if you have a problem and the extent of your problem. In addition they will also give you a preview of the course. Its imporant to note that this process is very time sensitive and that there may be scheduling issues.
The DUI court program is designed for multiple offenders in Orange County. It is another path to stay out of jail.
What differentiates the penalties of a 3rd DUI from a 1st or 2nd DUI in Orange County?
In Orange County, the District Attorney takes a 3rd DUI very seriously. The penalty for a third DUI is 270 days in jail, while a second DUI results in about 90 to 120 days in jail. For a first DUI, there is usually no jail time.
What are the total costs associated with a 3rd DUI, including hidden fees beyond the standard fines?
The total cost associated with a third DUI is substantial and is similar to a second DUI. Expect about $2200 in court fees, $500 in class fees, and several hundred dollars in ID and SR22 fees. The most significant hidden cost is the increase in insurance premiums, which can rise by several thousand dollars.
How do rehab programs specifically cater to those with DUI convictions?
Rehab programs for individuals with multiple DUIs focus on treatment. The court prioritizes rehabilitation, wanting individuals to recover and contribute positively to society. Being in rehab can potentially mitigate your DUI case. If someone enters rehab during their case's pendency, it's taken into consideration during sentencing, which can result in credit for time spent in rehab.
How does the DUI court program in Orange County work?
The DUI program in Orange County is intensive. Participants must plead guilty upfront, with several hundred days of potential jail time looming. They must agree to random drug testing and attend an intensive program. These programs require mandatory court appearances. Failing to attend these programs can result in removal from the program and reimposition of the initial sentence. It's so intensive that many people drop out.
What are the eligibility criteria to enter the DUI court program?
To be eligible for the DUI court program, individuals cannot be facing a DUI charge that resulted in great bodily injury. Additionally, they must genuinely seek help for their alcohol problem, acknowledging its existence. If staff believe an applicant is in denial or merely seeking to avoid jail, they might be denied entry.
Are there any restrictions when serving a sentence under house-arrest for a 3rd DUI in Orange County?
For those on house arrest due to a third DUI, the primary restriction is that they can only leave home for work. The rest of the time, they must remain at home, ensuring they can retain their job.
How can an experienced DUI lawyer aid in possibly reducing a jail sentence or challenging evidence?
An experienced DUI lawyer can expertly navigate the nuances of a case. Familiar with courtroom procedures, judge preferences, and effective strategies, a DUI lawyer in Orange County can be the difference between receiving house arrest for a third DUI or serving 270 days in jail.
What is the process to get into a residential treatment program, and how does it affect sentencing?
Entering a residential treatment program can influence sentencing. Time spent in such a program can be credited as jail time, allowing individuals to work on themselves. However, this doesn't occur automatically; a judge must order the person into the residential treatment program.
Rehab: Getting Treatment (Inpatient) for your 3rd DUI in Orange County
If you are already in an residential treatment program (inpatient) the courts will consider this in sentencing. There are times where the court will count your time in treatment as custody and give it to you. Other times if they do not, at least will be considered in the total amount of time you will spend in jail. In some cases lowering it. This can also be said for any kind of inpatient or intensive outpatient program as society as an interest in having you get treatment.
Judges are always looking out for the public interest. They want to make sure that people who commit crimes do not get away with them. Therefore, judges are usually very concerned about the well-being of society. The judge wants to see that criminals are punished but also rehabilitated so they won't commit any more crimes.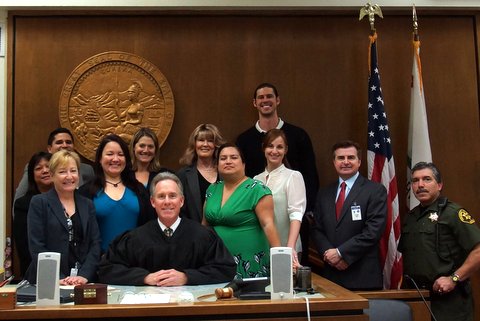 House Arrest Secured Electronic Monitoring on a 3rd DUI in Orange County
The judge allows you to serve your jail sentence under house-arrest (SEC in Orange County). You must wear a GPS locator, which you'll be responsible for paying. Your home will be searched randomly by the police and you will be subjected to search and seizure. However you will still be able to go to work. .The process and obstacles of getting a Secured Electronic Monitoring in Orange County on a 3rd DUI is the same as a second DUI. For more information you can read article about second dui and staying out of jail here.
Getting Out of Jail for a 3rd DUI May Require a DUI Lawyer
Some Prosecutors will seek the maximum punishment. When this happens Judges will need to be given a reason to offer alternatives to incarceration. A strong defense is required to avoid lengthy jail sentences.Having an experienced attorney who knows how to navigate the court system can help ensure that your rights are protected.
You can learn more about how a drunk driving lawyer could help you reduce your time in jail by calling at the contact form on the right side of the page. Your first meeting will be free, so don't hesitate to reach out to us today!
A DUI lawyer can help you navigate this channel and figure out whether this process is the right one for you. An experienced DUI lawyer can also help you win your case by challenging the evidence used against you. You should contact an Orange County DUI lawyer as soon as possible after being arrested for a third offense.